About Conference
Allied Academies invites all the participants from all across the globe to attend "2nd International Conference on Stem Cells and Regenerative Medicine", on May 20-21, 2019 in Rome,Italy which includes prompt keynote presentations, poster presentations, oral talks, and exhibitions.
Stem cells are unspecified cells hold the ability to proliferate and differentiate in any other cells of body. There are several types of stem cells found in our body, embryonic Stem cell, Pluripotent stem cells, Heompoetic Stem cell, Mesenchymal stem cell which hold the enormous therapeutic potential to repair and regenerate damaged tissues. Regenerative medicine is an application of this multi potent stem cell in the field of Tissue engineering, Transplantation and genome Editing as well as in Organ Regenerations. Therefore, development of disease-specific therapies and treatments by exploiting the remarkable properties of stem cells holds hope for improvement of the quality of life and survival of patients with chronic disorders. To explore More Regarding the Recent Research in Stem cell Culture and Its application attend

Stem cell Congress 2019

.
Objective:
Stem Cell Congress 2019

is a platform to achieve the prevailing gaps in the transformation of this multidisciplinary science of hope, to serve promptly with solutions to all in the need.

Stem Cell Congress 2019

will have an anticipated participation of 120+ delegates across the world to discuss the purpose of the conference.
This meeting makes a stage for Policy-creators, Scientists, agents and leaders in Stem cell Research and Regenerative Medicine to display their most recent research and find out about all the imperative advancements in stem cell Research and Regenerative Medicine.
Importance & Scope:
Stem Cell Congress 2019

will encompass recent researches and findings in Stem cell therapies and research, tissue engineering and transplantation, scope, and future of regenerative medicine, current understanding of nanotechnology in regenerative medicine, reprogramming of stem cells, and advancements in Cancer stem cells research, Tissue Engineering, Transplantation and the possibilities of genome manipulation in stem cell research.
Stem Cell Congress 2019

will be a great platform for research scientists and young researchers to share their current findings in this field of applied science. The major scientific sessions in

Stem Cell Congress 2019

will focus on the recent and exciting innovations in prominent areas of tissue engineering technology and stem cells research.


About Organizers:
Allied Academies

is one of the leading Open Access publishers and organizers of international scientific conferences and events every year across USA, Europe & Asia. Allied Academies has so far organized 3000+ Global Allied Academies Events with over 600+ Conferences, 1200+ Symposiums and 1200+ Workshops on Medical, Pharma, Engineering, Science, Technology and Business with 700+ peer-reviewed open access journals in basic science, health, and technology.
Scientific Sessions:
Stem Cell Congress 2019 is a broad-spectrum Field which covers the entire spectrum of stem cell and Regenerative medicine Topics involved Insight in Stem cell ,Stem cell and Gene Therapy, Cancer stem cell and Oncology, Stem cell Therapy and Applications, Stem cell in Treatment of Neurodegerative disorder, Cardiovascular disorder ,Hematopoietic disorders, Impairments of the brain, immunodeficiency and Autoimmune diseases, Rare Disorder Treatment via Gene therapy and Stem cell therapeutics, Stem cell therapy in veterinary medicine, Stem cell in Disease modelling and drug discovery, Stem cell and Bioengineering, Stem cell and Nanotechnology, Stem cell apoptosis & Signal Transduction, Genome Editing in Stem cell and Tissue regeneration, Reprogramming in stem cell and Transplantation, Rehabilitation and Tissue Engineering, Tissue, stem cell Preservation & Bio banking, Computational Biology and Bio informatics and bio statics in stem cell Research, Adipose Tissue and Lipogems Treatment, Gene Therapy and Molecular basis of Regeneration, Microbes in stem cell Research and Gene Therapy, 3D bio printing & bio fabrication, Stem cell Products and Commercialization, Clinical Trials and Regulatory Challenges in stem cell research, Bioethics of Stem cell research ,Future prospects of stem cell research and regenerating medicine.
Target Audience:
Eminent personalities, Directors, CEO, President, Vice-president, Research scientists, Organizations, Post-docs, Associations heads and Professors, Stem Cell laboratory heads, Students and other affiliates related to the area of Stem cells research and regenerative medicine.
Related Societies and Associations:
International Society for Stem Cell Research; Formosa Association Regenerative Medicine (FARM); International Stem Cell Research; Australasian Society for Stem Cell Research; The National Stem Cell Foundation; Dutch Society for Stem Cell Research; Canadian Association for Research in Regenerative Medicine; Stem Cell Evaluation Technology Research Association; International Society for Cellular Therapy (ISCT); The Center for Stem Cell and Regenerative Medicine (The Stem Cell Center ); German Society for Stem Cell Research (GSZ); Euro Stem Cell: Stem Cell Research; Taiwan Society for Stem Cell Research (TSSCR); Stem Cell Society Singapore; STEM CELLS Translational Medicine (SCTM); New York Stem Cell Foundation; American Society for Reproductive Medicine; Alliance for Regenerative Medicine; California Institute for Regenerative Medicine; Australian Society for Stem Cell Research; Norwegian Center for Stem Cell Research; Sanford Consortium for Regenerative Medicine; Society for Hematology and Stem Cells (ISEH); Korean Society for Stem Cell Research; Danish Stem Cell Society; European Stem Cell Community; European Cancer Stem Cell Research Institute; International Placenta Stem Cell Society (IPLASS); South African Stem Cell Transplantation Society (SASCeTS)
Related Journals of Stem Cell Research and Regenerative medicine


Nature Reviews Molecular Cell Biology , Annual Review of Cell and Developmental Biology , Nature Cell Biology , Nature Methods, Cancer Cell , Cell Stem Cell , Molecular Cell , Annual Review of Plant Biology , Annual Review of Biophysics , Cell Metabolism , Trends in Cell Biology , Journal of Cell Biology ,Genome Biology , Nature Chemical Biology , Current Opinion in Cell Biology , Plant Cell , Stem Cell Reports , Cell Research , Progress in Lipid Research , Cell Death and Differentiation , Science Signalling , Seminars in Cell and Developmental Biology , Molecular and Cellular Biology , BMC Biology , Plant Journal ,Journal of Cell Science , Stem Cells , Aging Cell , Molecular Biology of the Cell , Autophagy, Cellular and Molecular Life Sciences , Current Topics in Developmental Biology , Journal of Molecular Cell Biology , Journal of Biological Chemistry , Antioxidants and Redox Signaling , Biochimica et Biophysica Acta - Molecular Cell Research , Aging , Biochemical Journal , RNA Biology , Skeletal Muscle , Plant and Cell Physiology , Journal of Investigative Dermatology , Journal of Lipid Research , Journal of Leukocyte Biology , Developmental Biology , Biochimica et Biophysica Acta - Bioenergetics
Top Universities for Stem Cell in Europe:
University of Edinburgh, University of Cambridge , University of Oxford , Karolinska Institute , University College London , University of Copenhagen , Imperial College London , University of Munich , King's College London , Pierre and Marie Curie University , Leiden University , University of Helsinki , Heidelberg University , Utrecht University , Catholic University of Leuven , Uppsala University , University of Groningen , University of Barcelona , Lund University , Technical University of Munich , Queen Mary, University of London , University of Amsterdam , University of Zurich , University of Manchester, Swiss Federal Institute of Technology Zurich , University of Bristol , University of Glasgow , University of Eastern Finland , University of Leicester, University of Strasbourg , VU University Amsterdam , University of Geneva , University of Oslo , University of Milan
Top Universities for Stem Cell in Asia:


University of Hong Kong (HKU) , Peking University , Seoul National University (SNU) , National Taiwan University (NTU) , Osaka University , Tsinghua University , The Chinese University of Hong Kong (CUHK) , Fudan University , The Hong Kong University of Science and Technology (HKUST) , Taipei Medical University , Mahidol University , KAIST - Korea Advanced Institute of Science and Technology , The University of Tokyo , National University of Singapore (NUS) , Kyoto University , Yonsei University , Shanghohoku University Jiao Tong University , Nanyang Technological University (NTU) , Chulalongkorn University , , Tokyo Medical and Dental University , Kyushu University , Nagoya University , University of Science and Technology of China
Top Universities for Stem Cell in the USA:


University of Oxford , Massachusetts Institute of Technology (MIT) , Stanford University , University of California, San Francisco (UCSF) , Yale University , Johns Hopkins University , Texas A & M University , Princeton University , California Institute of Technology Caltech , Cornell University , Georgia Institute of Technology , Emory University , North-western University , Michigan State University , Oregon Health & Science University , University of Washington , Brown University , Purdue University , University of Michigan , University of Virginia , University of Wisconsin– Madison , University of Colorado – Boulder , University of Miami , Duke University , Stony Brook University , Vanderbilt University , University of Florida , University of Pennsylvania , Case Western Reserve University , Rice University , North Carolina State University , Oregon State University , Penn State University
Welcome Message




Allied Academies invites all the participants from all across the globe to attend "

2nd International Conference on Stem Cells and Regenerative Medicine

", on
May 20-21, 2019 in Rome,Italy
with a Theme "
Stem cell Research – Rising Revolution in The future of Medicine
" which includes prompt keynote presentations, poster presentations, oral talks, and exhibitions.
Sessions & Tracks
Insights of Stem cell


Stem cells
are the body's raw materials cells, a
Genetic / Molecular driver
having the properties of Self-Renewal, unspecialized, Proliferation and Differentiation and Plasticity. They have a potential to develop in to different type of cells during the whole life time of a living Individual. When a stem cell divide each daughter cell have the retain ability as the mother cell. They can remain as a stem cell or else differentiate in to different type of cells with more specialized functions such as brain cell, RBC, muscle cell. They are
unspecialized cells
and remain in an inactive condition for long periods and induced to proliferate and differentiate in to organ and t
issue specific cells
with special functions by certain physiological and experimental conditions. Some of the stem cells like cells in bone marrow and gut are dividing throughout life span of an individual. There are several type of stems cells are present like Cancer Stem Cells Neural Stem Cells,
Hematopoietic Stem Cells
, Mesenchymal Stem Cells,
Pluripotent Stem Cells
,
Embryonic Stem Cells
, Amniotic stem cells cultured and used in the treatment of several diseases, disorders and disabilities including Parkinson's and Alzheimer's diseases, spinal cord injury, stroke, burns, heart disease, diabetes,
osteoarthritis
,
rheumatoid arthritis
as well as
Cancer
.
Lineage and Differentiation

In-vitro culturing of stem cells

Applications of somatic stem cell
Related Societies and Associations:
Stem cell and Gene Therapy
Gene therapy is a Novel approach to prevent and cure many genetic or acquired life-threatening diseases by changing the pattern of gene expression. It can be targeted to somatic or germ cells to manipulate and induce and remove diseases producing genes. The most common vector used in gene therapy is Virus. As we know stem cell have the special capacity to self-renewal, Differentiate and proliferate in to different type of cells hence is used as a model to induce relatively high efficiency new genetic information (transgene) by addition, deletions, mutations, or alterations of the corresponding genomic sequence to cure functional defect and therapeutically efficient gene allowed to culture and transfer in targeted cells or tissues. Hematopoietic stem cells are used as a common model for more general genetic manipulations of stem cells. Hence both gene therapy and stem cell based gene therapy hold a special interest in research.


Stem cell based gene therapy

Cell types in gene therapy

Insertional mutagenesis in gene therapy
Related Societies and Associations:
Cancer Stem cell and Tumour Biology
Cancer genomics and metabolomics
Biomarker in cancer stem cells
Novel Cancer stem cell (CSC) Regulatory Mechanism
Therapeutic target on cancer stem cells
Pharmaceutical applications of cancer stem cells
Drug resistance in cancer stem cells
Cancer antigens as immunotherapy targets
Stem cells as a tool to battle cancer
Related Societies and Associations:
Stem cell therapy in the treatment of Eye sites

Stem cell therapy in the treatment of Diabetes

Stem cell in Bone regeneration

Stem cell in wound healing

Stem cell therapy in metabolic disorder

Stem cell therapy in Graft-versus-host disease (GvHD)
Related Societies and Associations:
Amyotrophic lateral sclerosis (ALS)

Spinal muscular atrophy (SMA)

Autism spectrum disorders (ASD)

Angelman and Prader-Willi Syndrome
Related Societies and Associations:
Duchenne muscular dystrophy (DMD)

Becker muscular dystrophy (BMD)

Hutchinson Gilford Progeria (HGPS)
Related Societies and Associations:
Acute and chronic leukemia (AML/ALL or CML/CLL)

Lymphomas (Hodgkin lymphoma, non-Hodgkin lymphoma)
Related Societies and Associations:
Traumatic brain injury (TBI)

Dementia, in particular Alzheimer's disease

Brain injuries due to accidents or cancer

Infantile brain damage (cerebral paresis)
Related Societies and Associations:
These

autoimmune

conditions are treated with immune

suppressive agents

such as steroids, methothrexate, cyclosporine, gold, and more recently infliximab (Remicade). These can induce temporary improvement but to treat these diseases with a long term solution stem cell therapy is the best approach besides healing and regenerating the damaged tissue these stem cells can modulate the immune system by inhibiting the pathological response towards self-cells of body. Commonly

Mesenchymal stem cells

and umbilical cord tissue-derived stem cells are used in treatment of auto immune diseases these cells produce

auto-inflammatory signals

to inhibit the pathological mechanism of immune system against self-cells and induce the production of T regulatory cells, which protect the body against

immunological self-attack

.

Whiskott Aldrich syndrome
Related Societies and Associations:
Gaucher disease type III (GD)

X-linked chronic granulomatous disease (X-CGD)

A1-antitrypsin deficiency

Adenosine deaminase deficiency related severe combined immunodeficiency
Related Societies and Associations:
Sources of stem cells in animals

Ligament and tendon repair

Kerato conjunctivitis Sicca (KCS )

spermatogonial stem cells in Transgenic animal production

spermatogonial stem cells to preserve endangered animal species
Related Societies and Associations:
High thought put screening using iPSCs

Cardiovascular Disease modelling

Disease modelling using iPS cells

Stem cell toxicity testing

Testing drugs with stem cells
Related Societies and Associations:
Stem cell and BioengineeringStem cell culture

and regenerative medicine mostly focused in creation of functional body tissues which can be model, repair and replace the damaged body part. Which hold a possibility to create whole organ and tissue regeneration by

bioengineering of stem cells in Vitro

. In order to obtain

desired organ

and tissue for

transplantation

. Instead of that genetic and molecular enhancement of stem cell is a powerful mean to correct genetic defect in patient these novel approach can eradicate the limitation of organ donor for transplantation as well as open a new path in

health science

and medication.

Engineered Tissues and its uses

Orgoniods in bioengineering

Designing of tissue scaffolds

Bioprocessing techniques used in stem cell culture

Micro fluids in cell therapy

Current understanding & challenges in bioprocessing
Related Societies and Associations:
Genetic Engineering and nanotechnology

Nanotechnology in gene therapy

Nanoparticle Labels in Stem Cell Therapy

Genetic modifications and reprogramming

Stem cell visualization and imaging

Nanotechnology Ethical issues

Nano imprints Lithography

Self-Assembling Peptide Nano fibres
Related Societies and Associations:
Molecules are the most important coins of and individuals' body each molecule emits and transfers

particular signal

which is received by another molecules and executed these complete phenomenon is termed as

signal transduction

.

Apoptosis

is the cell death signals which induce death to the corresponding cell. Stem cell as we know the potential cells having the ability to self-renewal, differentiation to maintain and control these capacities

Apoptosis

is necessary. In case of

tumorigenic cells

several apoptosis signals are required to induce cell death. To balance the number of stem cells in our body

signal transduction

and

apoptosis

play a vital role.

Signalling in tumorigenic cells

Apoptosis and Cell death signals

Cell signal transduction in iPS cells

Cell signalling in stem cell differentiation
Related Societies and Associations:
Antibiotic-based tissue regeneration scaffolds.

Prevention of intervertebral discs degeneration.

Ligament regeneration with biomechanics.

Osteoarthritis and knee joint replacement.

Stem cell Regeneration Therapy, Impact Factor , Supplements
Related Societies and Associations:
Autologous stem cell transplant

Allogeneic stem cell transplant

Mini-transplant (non-myeloablative transplants)

Syngeneic stem cell transplant

Half-matched (haploidentical) transplants

Hematopoietic Stem Cell/Blood-Forming Transplantation (HSCT)

Tissue and Organ Transplant
Related Societies and Associations:
Extracellular matrix analog

Auricular cartilage reconstruction

Biomaterials and biopolymers for tissue engineering

Hydrogels for tissue engineering

Dermal tissue and Stem cell engineering

3D printing in tissue engineering
Related Societies and Associations:
Bio banking

is the process of storing a wide range of biological specimens including

Blood, Silva, plasma, Purified DNA

etc. these specimens are used in biomedical research as well as patient specific clinical applications. In short bio banks are the library of Human specimens. Stem cells are contributes in treatment of numerous numbers of diseases hence storage of these different potent stem cells is necessary to retain and restore their original and natural potentials and to use it in particular requirement. Cord blood stem cells are the natural sources of

pluripotent stem cells

which is

cryopreserved

to use in stem cell culture, tissue regeneration as well as

transplantation

.

Regenerated tissues

and cell lines are also preserved to use during immediate requirement.

Genome Wide Association Studies

Single Nucleotide Polymorphisms

Hypothermic or Cold Storage

Global market for cord blood preservation

Clinical application of stem cell banking
Related Societies and Associations:
Computational Biology and Bio informatics and bio statics in stem cell Research

Application of Computational Biology and bio informatics in the traditional field of Biology opens new insights in regulation of experimental data as well as understanding the phenomenon in molecular and statistical basis. In Stem cell Biology, hypotheses/concepts/theories regarding various properties of stem cell is analysed in relation to different experimental data (e.g. measurements of the transcriptom, proteome, metabolism, but also image data) and regulatory components (e.g. transcription factors, signalling molecules, cell-cell interactions) To explain its molecular or phenomenological characteristics on the cellular and tissue levels (e.g. the repopulation of the differentiation potential of stem cells) on the basis of intra-cellular and molecular mechanisms and with theoretical approaches, such as mathematical modelling and computer simulation by the use of Computational Biology, Bio informatics and bio statics.

Cancer Computational Biology

Cellular Computing and Drug Discovery

Bioinformatics Analysis of Stem Cells

Computational Evolutionary Biology
Related Societies and Associations:
Adipose tissue therapy and uses

autologous and micro-fragmented adipose tissue graft

Body Fat and Its healing Power
Related Societies and Associations:
Genomics and Proteomics in Stem Cell Biology

Molecular Basis of Epigenetics

Molecular docking for drug delivery

CRISPR/Cas9 in genome editing

Genome editing for designer babies

Generation of animal models by genome editing

Targeting genetic diseases by genome editing in stem cells
Related Societies and Associations:
Leprosy Bacteria: turns adult cells into stem cells

Virus as a vector for stem cell culture

Gut bacteria : Role in colon Cancer

Bacterial-modulated intestinal stem cell activation
Related Societies and Associations:
printing for life sciences

Importance of 3D Bio printing

Prognostic and diagnostic biomarkers of cancer stem cells
Related Societies and Associations:
As

stem cells

Holds enormous potential it is used in various aspects including

Transplantation

to

Tissue engineering

. Now days it opens new insight in the field of

cosmetic surgery

and

biomedical research

which increase the demand of these stem cell products and create a new

business opportunity

in production, regulation and manufacturing as well as in application of stem cell and stem cell products. Come and Join to learn about the current variable Categories and business opportunities.

MimEX Tissue Model Systems

Commercialization and Stem Cell Research

Stem Cell Product MultiStem Manufacturing

Ethical and Policy Issues in Commercialization of Stem Cells
Related Societies and Associations:
Recent Developments In Pre-Clinical And Clinical Trials of Stem Cell Therapy

Screening New Compounds And Identifying More Effective Medicines

Ethical Challenges And Status of Currently Viable Companies

Funding And Regulatory Challenges
Related Societies and Associations:
Legal policies and regulations

Ethical issues in cord blood banking

Research ethics in stem cells and regenerative medicine

Bioethical issues in embryonic stem cells

Global strategy and legal framework
Related Societies and Associations:
Developing new probes for tissue targeting

Therapeutic bioengineering

Tissue engineering for own stem cells

Bioengineering for medical diagnostic & imaging

Technology in rejuvenation

Development of recombinant signalling molecules

Advances in biochips and tissue chips

Spinal fusion and ossification
Related Societies and Associations:
Market Analysis
Market Growth of Stem Cell & Regenerative Medicine Research:
Global Market of Regenerative Medicines anticipated achieving USD 30,237 million by 2022.Current Research says that, Regenerative Medicine has opened several insights in the field of Health and Medicine and approaches to treat and cure complex degenerative, Neurological and genetic, acquired as well as hereditary disorder and to restore the function of tissues and cells in the damaged and missing organs by other therapies. North America takes the lead in global market in 2015 and expected to remain ascendant during 2015-2022. Stem Cell Therapies are also used to treat cancer and different immunodeficiency and Auto immune syndromes. And now Stem Cells are also stands as a new weapon against Neurodegenerative Diseases, cardiovascular Diseases. Eyesight syndromes, wound healing, spinal cord injury, etc.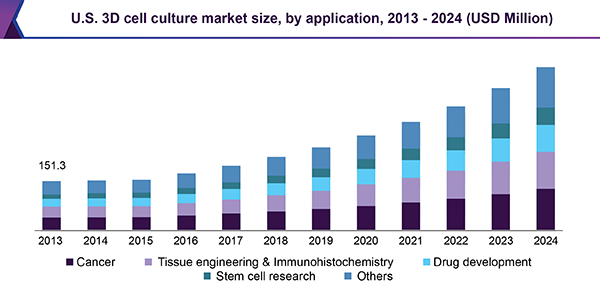 The worldwide Stem cell & regenerative medicines market is functional with several parameters like product type, application, sources, geography and users. In focused to the product type stem cells market is divided into human embryonic stem cells, adult stem cells, IPsec's, etc. Whereas, regenerative medicines applied the potential of these stem cells to regenerate, repair & replace tissues or the organ which are affected due to injury, natural aging process, and some diseases.


These novel approaches are able to restore the performance of cells & tissues and applied in broad range of fields starting form Tissue Engineering to cosmetic surgery therefore, now it seeks the central attraction of researchers to focuses on the new technologies like Utilization of Nano-materials in immunomodulation, drug delivery to make the growth in regenerative medicines market and blend it with stem cell culture to open new insights, possibilities which can bring evolution in the field of medicine.
Raw Material Analysis for stem cell Market
The regenerative medicine market is broadly divided into three categories namely biologically derived materials, synthetic materials, and genetically engineered materials. The Synthetic materials and genetically engineered materials have high demands in the market due to its higher efficiency as compared to other naturally derived materials. Synthetic materials have used hydrogel in tissue engineered scaffolds. While Genetically Engineered materials designed in vitro condition with desired gene and potentials. Financially investment for Stem cell and Regeneration Medicine are done by private inventors, and publicly traded stock as well as Government as these research holds the Possibility to Treat numerous Number of Diseases.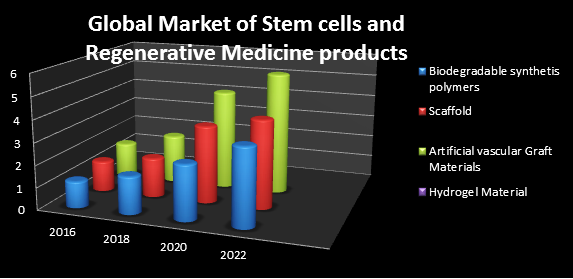 Cosmeceuticals Market:
Stem cell Culture Is also used in the field of Plastic and Cosmetic surgery to Remove wrinkles and different ageing issue .As these market is associated with fiction world it will contribute a good amount in the economy and growing rapidly .The market was evaluated at $42.24 billion in 2016 and is expected to reach a value of $68.72 billion by 2022, witnessing a CAGR of 8.52% during the predicted period, 2017-2022.
Cosmeceuticals are the emerging market and so there are lots of opportunities lies in the market that is needed to be explored. North America has been declared as the second largest in the market of cosmeceuticals that has estimated for a share of 31% approx. in 2016.
The United States is the major industry for the organic and in North America natural cosmetic products which shares 85% approx. in 2016 with a market value of $10.62 billion. Whereas, the Asia Pacific is the third largest industry for skin care products market which estimated a share of 22% approx. in 2016.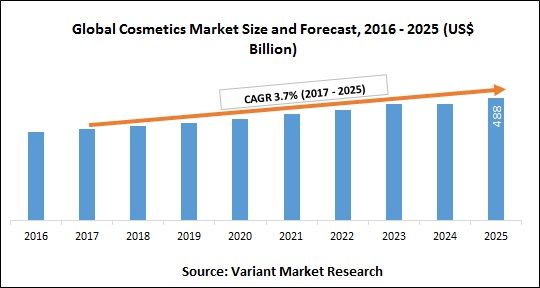 Global Market Study of Stem Cells & Regenerative Medicine:
Europe: The regenerative medicine & stem cells market is expected to reach USD 13.578 billion by 2022 from USD 5.06 billion in 2016 at a CAGR of 21.80% during the period 2016-2022.
Middle East: The regenerative medicines market is expected $ 40.55 billion revenue in 2022 from $ 17.03 billion revenue in 2016.
USA: The regenerative medicine & stem cell market is assuming to reach $38.70 billion by the year 2022 from $ 13.33 billion in 2016 at a CAGR of 23.56%.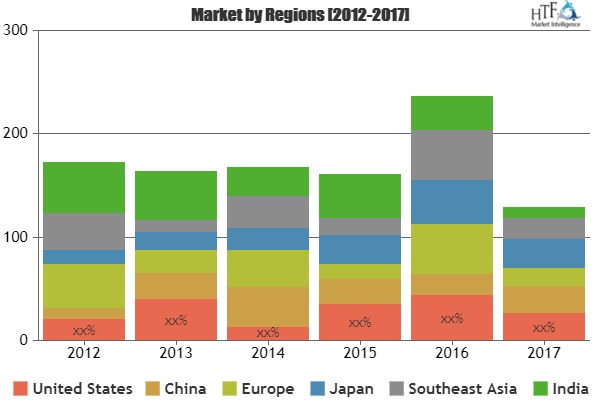 Why Rome ??
Rome, The capital city of Italy is listed as a Global city and ranked as the 14th most visited city in world and 3rd in European region. Its historic centres considered as world heritage site by UNESCO by having several historical monuments, museums, places like the Colosseum, St. Peter's Basilica, Castel Sant'Angelo, Ponte Sant'Angelo, Trevi Fountain and the Pantheon to enjoy the hidden treasure of nature. Instead of that it is a perfect destination of shopping with large markets like Trajan's Market, Roma Termini, Euroma2, Shopping Mall Porta di Roma, Galleria AlbertoSordi .For food lovers several delicious destinations are there like Mercato Centrale Roma, Stagioni, l'Osteria di Eataly La Maisonnette Ristrot,Antico Arco, Fa-bìo ,Taverna dei Fori Imperiali and many more to satisfy theirhunger.
Instead of that, it is the hub of several researchcentres like EBRI , German Archaeological Institute, Center for AmericanStudies, École française de Rome - laboratorio archeologico Gramsci FoundationOnlus, Escuela Española de Historia y Arqueología en Roma, UNICRI – UnitedNations Interregional Crime and Justice Research Institute, Istituto LuigiSturzo ,Center for Global Health Research and Studies , ITB Istituto diTecnologie Biomediche, Space Science Data Center (SSDC) - Agenzia SpazialeItaliana (ASI), CREA Consiglio per la ricerca in agricoltura e l'analisidell'economia agrarian, CREA Centro di ricerca per la frutticoltura, CREACentro di Ricerca per la Patologia Vegetale, CNR-ISAC, S.Li.M. Lab anduniversities like Sapienza University of Rome, Roma Tre University, LiberaUniversità Internazionale degli Studi Sociali Guido Carli, Libera UniversitàMaria SS. Assunta, Università Campus Bio-Medico, University of Rome TorVergata, Marconi University, Foro Italico University of Rome, American Universityof Rome, British School at Rome which seeks the attention of researchers andDoctors.

Rome Experiences a Mediterranean climate withfairly warm, dry summer and cool, humid winter and having advanced transportfacilities with broad roads, municipal bus, tram and metro urbanrailway network for local transport while it served with prime railway stationsnamed Roma Termini, Roma Tiburtina. Three commercial airports which serve thecity are, the older Rome Ciampino Airport, the Roma-Urbe Airport the new theintercontinental Leonardo da Vinci International Airport. And Port ofCivitavecchia is the prime port for Transportation.

In short, Rome is the perfect destination to plan avacation with a proper blend of enjoyment and knowledge.