About Conference
Allied Academies Publication is an amalgamation of several esteemed academic and scientific associations known for promoting scientific temperament. Established in the year 1997, Andrew John Publishing Group is a specialized Medical publisher that operates in collaboration with the association and societies. This publishing house has been built on the base of esteemed academic and research institutions including The College of Audiologists and Speech-Language Pathologists of Ontario(CASLPO), The Association for Public Safety Communications Officials of Canada (APCO), The Canadian Vascular Access Association (CVAA), The Canadian Society of Internal Medicine (CSIM), The Canadian Hard of Hearing Association (CHHA), Sonography Canada, Canadian Association of Pathologists (CAP-ACP) and The Canadian Association of Neurophysiologic Monitoring (CANM).
Allied Academies invites all the participants from all across the globe to attend "International Conference on Stem Cells and Regenerative Medicine", on June 18-19, 2018 in Osaka, Japan, which includes prompt keynote presentations, poster presentations, oral talks, and exhibitions.
Stem cells are unique cells with an ability to differentiate in any other cells of the body. Two types of stem cells found in the body, embryonic and somatic, hold the enormous therapeutic potential to repair and regenerate damaged tissues. Regenerative medicine is an application of stem cell research which harnesses the potential of tissue engineering to stimulate repair mechanism of body and restore the damaged tissues and organs. Therefore, development of disease-specific therapies and treatments by exploiting the remarkable properties of stem cells holds hope for improvement of the quality of life and survival of patients with chronic disorders.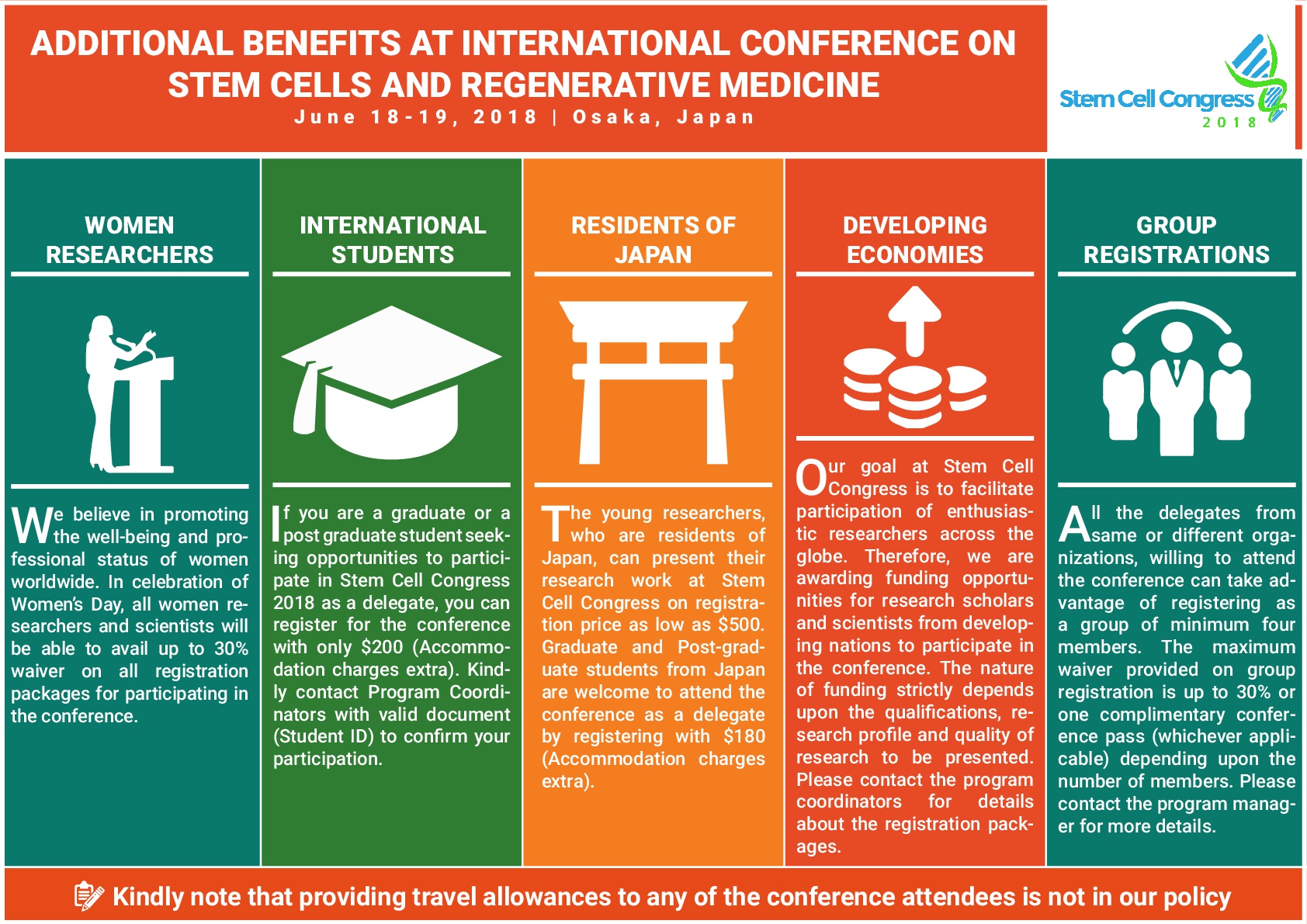 Objective:
Stem Cell Congress 2018 is a platform to achieve the prevailing gaps in the transformation of this multidisciplinary science of hope, to serve promptly with solutions to all in the need. Stem Cell Congress 2018 will have an anticipated participation of 120+ delegates across the world to discuss the purpose of the conference.
About Organizers:
Allied Academies is one of the leading Open Access publishers and organizers of international scientific conferences and events every year across USA, Europe & Asia. Allied Academies has so far organized 3000+ Global Allied Academies Events with over 600+ Conferences, 1200+ Symposiums and 1200+ Workshops on Medical, Pharma, Engineering, Science, Technology and Business with 700+ peer-reviewed open access journals in basic science, health, and technology.
In Collaboration with:
Scientific Sessions:
Stem Cell Congress 2018 will encompass recent researches and findings in Stemcell therapies and research, tissue engineering and transplantations, scope, and future of regenerative medicine, current understanding of nanotechnology in regenerative medicine, reprogramming of stem cells, advancements in Cancer stem cells research and the possibilities of genome manipulation in stem cell research.
Stem Cell Congress 2018 will be a great platform for research scientists and young researchers to share their current findings in this field of applied science. The major scientific sessions in Stem Cell Congress 2018 will focus on the recent and exciting innovations in prominent areas of tissue engineering technology and stem cells research.
Target Audience:
Eminent personalities, Directors, CEO, President, Vice-president, Research scientists, Organizations, Post-docs, Associations heads and Professors, Stem Cell laboratory heads, Students and other affiliates related to the area of Stem cells research and regenerative medicine.